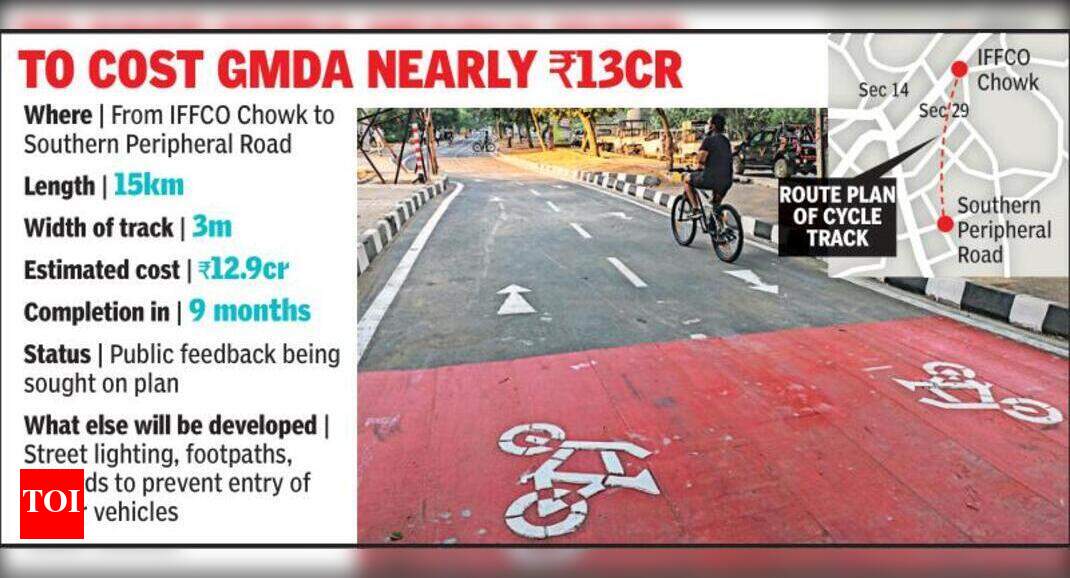 Upcoming 15 km cycle path between IFFCO Chowk and SPR by next year: GMDA | News from Gurgaon
Gurgaon: By next year, three-meter-wide cycle paths are expected to appear on either side of a 15-kilometer stretch between IFFCO Chowk and the city's Southern Peripheral Road. The Rs 12.88 crore project, officials said, is expected to benefit a large number of cyclists who use the road every day.
The Central Planning Cell (CPC) of the Gurugram Metropolitan Development Authority (GMDA), which approved the proposal last month, also decided to link the cycle path to one to be built on Golf Course Road by DLF across sectors. 27, 28, 42 and 43 among others. Connecting the two roads will provide cyclists with a safe route to get from one road to the other, officials said.
"At this time, we are seeking public comments on the proposal, after which a call for tenders will be issued. Once the actual work has started in the field, it will take around nine months to develop the track, "said a senior GMDA official.
Street lighting, the installation of road safety furniture, as well as the marking and design of the cycle logo on the road surface will also be undertaken as part of the project, officials said. In addition, bollards will be installed along the track to prevent entry of two or four wheels. A causeway will also be built along with the track, and in areas that already have trails, the necessary "improvements" will be made, they added.
The proposed track is the latest in a series of such infrastructure developed by GMDA over the past year to meet its target of 800 km of cycle paths by 2035. The first cycle path in Gurgaon – a five km track on both sides of the between downtown Huda and Subhash Chowk – had been inaugurated on October 2 last year. Since then, similar tracks have appeared in other parts of the city, including along Hamilton Court Road, part of Old Delhi-Gurgaon Road, Vyapar Kendra Road, and a service road near Gold Souk Road.
Last week, the Residents' Advisory Council urged city officials to speed up work on new cycle paths and remove obstacles on existing tracks.
"This section between IFFCO Chowk and Southern Peripheral Road is accessible to hundreds of cyclists every day, both for work and for leisure. A dedicated cycle path will not only protect them, but also promote cycling itself, "MG Road resident Sushant Sharma told TOI on Tuesday.
Sector 47 resident Aniket Rumta also agreed that a cycle path would be beneficial for local residents. "But it is important that the intersections entering the path are also aligned with the track. There should be dedicated crossings and signals to allow cyclists to cross an intersection safely, "Rumta said.