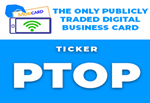 The Peer To Peer network announces the current status of Pink,
Cambridge, MA, Jan. 19, 2022 (GLOBE NEWSWIRE) — Peer To Peer Network aka MobiCard Inc. (OTC Pink: PTOP) is proud to announce that it has achieved the coveted "Pink Current Status" from the OTC and has also submitted the year-end financial reports and disclosure documents as of September 30, 2021 to the over-the-counter markets for review. These reports can be viewed at www.otcmarkets.com under the PTOP disclosures tab.
The SEC's amendments to Rule 15c2-11 made specific changes that impacted companies and their market designations when the rule went into effect on September 28, 2021.
The OTC Markets group focused on September 28, but this rule is going to exist in perpetuity after that. So there will always be this continuous disclosure requirement under the rule. That was the purpose, from the SEC's perspective, of adopting the rule. If a company becomes delinquent and no longer has up-to-date information after September 28, it would lose its public listing and either go to the expert market or otherwise trade without access to that public market. PTOP has submitted the appropriate financial reports for September 30, 2021, as required for PTOP's fiscal year-end, to further comply with these new pending rules.
"Shareholders can count on me as CEO to file the appropriate disclosure materials on time and obtain and submit the appropriate financial reports with them. Although there are no guarantees in the markets, I promise shareholders that as long as I am CEO, I will do my best to always keep us up to date and in compliance with the new SEC 15c2-11 amendment I also promised shareholders that I would go beyond simply complying with the new 15c2 rule -11 and that I would achieve the "Pink Current Status" prestige level. Today, I can proudly announce that I have honored that promise. I will be making a further promise to shareholders today that I will do whatever is in my power to ensure that PTOP retains and maintains its new "Pink Current Status". This new designation of "Pink Current Status" is a great achievement for the company and I have no intention of returning to the "Pink Limited Status" lower, nor d e become delinquent in our financial statements like previous CEOs I was tasked to replace. . I will continue to propel the business higher and push PTOP on a continued upward trajectory. We may even see another list going up in our future, but I'll talk about that later," commented Chairman and CEO Josh Sodaitis.
Many shareholders have asked "what has changed in the Pink Current and Pink Limited guidelines and what will these two levels look like in the future?"
OTC Markets has revised its Pink Current and Pink Limited guidelines on the information required by businesses to qualify for each, which are publicly available on the otcmarkets.com website.
According to the OTC Markets Group website: "The Pink Limited level and information required to qualify as a Pink Limited is more basic – what you need under rule 15c2-11.
Pink Current goes beyond. In order to comply with these guidelines, you will need specific financial information – more than Pink Limited's guidelines. Both will allow a security to be listed on an ongoing basis, but pink current guidelines are stricter. And in terms of the impact of being on one level versus the other, the brokers who quote these securities may impose restrictions on the Pink Limited level that they do not impose on Pink Current.
Companies trading on our marketplace are subject to Blue Sky laws in all 50 states and four territories. This is also impacted depending on whether you are Current or Limited. For example, for companies that come to Current and make their information available to us, you would win a state like Illinois. This will impact not only a broker's potential restrictions on Limited versus Current trading, but also the Blue Sky status of individual states. Quote directly from Over-the-Counter Markets: FAQs on Rule 15c2-11 Changes – OTC Markets Blog .
This new pink current status for PTOP means that entire new states like Illinois (as used in the OTC markets example above), among others, will now have access to purchase PTOP stock on the free market. This is an obvious advantage for shareholders and the company.
If you are curious to see the balance sheet, financial disclosure documents or other financial reports, we encourage you to view them on the OTC Markets Group website.
PTOP's balance sheet for the most recent year-end 9/30/2021 shows significant improvement in debt reduction and shareholder deficit decrease. Liabilities have also decreased significantly. In 2022, we aim to eradicate 90% of our liabilities and also hope to get rid of the rest of the outstanding debt. We encourage the few shareholders with outstanding debt to allow us to settle it, so that we can completely eradicate the debt on 1st half of 2022. In our view, this shows a continued path of positive improvement. With technology assets of over $211,000 and granted patent intellectual property also adding value to the bottom line, PTOP's future continues to look brighter.
"Next week, I will publish my annual CEO letter to shareholders and, as I normally do in every annual CEO letter to shareholders, I will review what we have achieved in 2021 and outline my strategic objectives which will be ours. agenda to accomplish in 2022," concluded Chief Executive Officer Joshua Sodaitis.
Contact information:
Joshua Sodaitis, Chairman and CEO of MobiCard, Inc.
45 Prospect Street Cambridge, MA 02139
Telephone: 1-617-651-2460
E-mail: [email protected]
ON:
Peer to Peer Network aka MobiCard is the first digital business/contact card of its kind. This will greatly facilitate the ability of individuals and businesses to share information and more effectively expand their visibility and brand awareness. Mobicard is a combination of mobile apps and powerful desktop apps with extensive capabilities including linking videos, user websites, all forms of contact information and all media links of each user in a consolidated source. It's more than just a digital business card; it is a "dynamic digital fingerprint". A subscriber can customize their business card to include a company logo, profile picture, contact information, website, audio messaging, social media links, and multimedia content. The platform's share and alert system allows users to share their card via SMS/SMS, email and global social media sites including Facebook, Twitter, LinkedIn, etc. The system provides the user with instant text alerts when their card is opened or shared. third-party referrals while creating an invaluable database of contact leads.
Safe Harbor Statement:
This press release contains forward-looking statements within the meaning of Section 27A of the Securities Act of 1933, as amended, and Section 21E of the Securities Exchange Act of 1934, as amended. The Company is relying on the protections of the Private Securities Litigation Reform Act of 1995. All statements regarding our expected future financial condition, results of operations, cash flows, financing plans, business strategies, products and services, competitive positions, growth opportunities, management plans and objectives for future operations, and statements that include words such as "anticipate", "if", "believe", "plan", "estimate" , "expect", "intend", "may", "could", "should", "should" and other similar expressions are forward-looking statements. All forward-looking statements involve risks , uncertainties and contingencies, many of which are beyond our control, which may cause actual results, performance or achievements to differ materially from anti cipated. Factors that could cause actual results to differ materially from those contained in the forward-looking statements include those set forth in our filings at www.sec.gov. The company is no longer a full SEC reporting company. We are under no obligation (and expressly disclaim any such obligation) to update or change our forward-looking statements, whether as a result of new information, future events or otherwise.