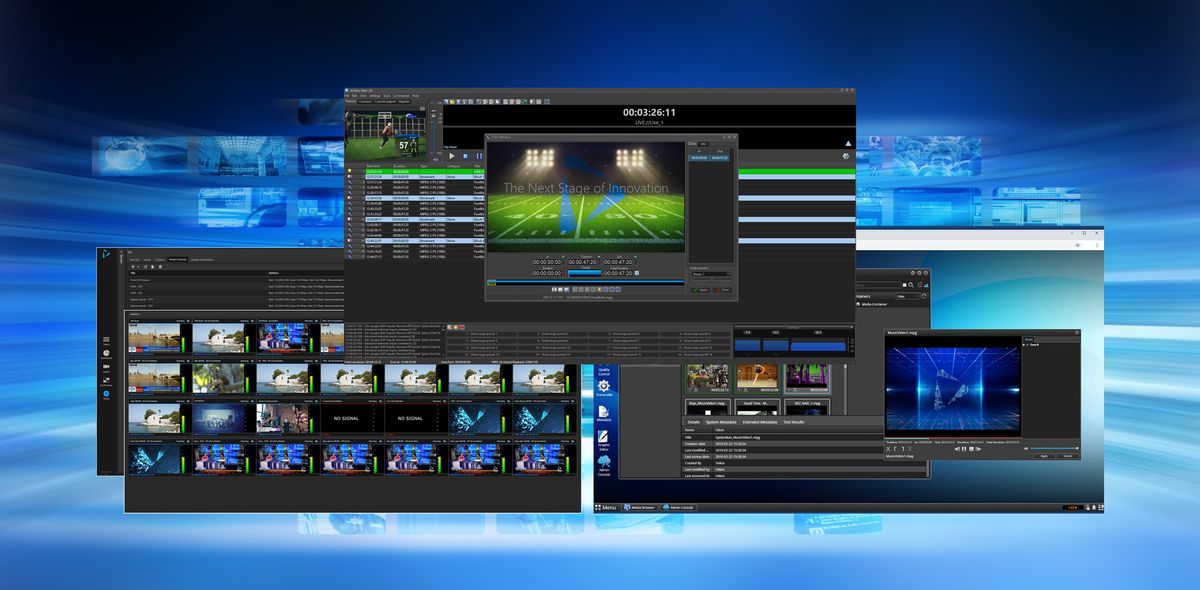 PlayBox Neo to Showcase Latest Advances in Broadcast at NAB 2022
WEST PALM BEACH, Florida.—PlayBox Neo will present the latest advances in the management of television channels broadcast over the 2022 NAB Show April 23-27 in Las Vegas.
Exhibiting at booth N5210 at the Las Vegas Convention Center, North Hall, the company will showcase a complete UHD/HD/SD playout solution designed to handle every component of the content management process, from ingest, pre-production and terrestrial, satellite and online programming.
The Capture Suite network-based multi-channel ingest solution will debut at NAB, the new Multi-Playback Manager (MPM) and playback system for the next-generation AirBox Neo-20 series.
"It's wonderful to see the NAB Show back in Vegas after its two-year sabbatical," said Van Duke, COO of PlayBox Neo US. "We have a good location at the front of the North Concourse, right next to the main entrance to the LVCC. A key part of our demo will be 4K-UHD which is gaining momentum worldwide as the standard for high-end streaming PlayBox Neo systems can be configured to provide full playback support in 4K-UHD, HD and SD, including simultaneous transmission in multiple standards.
"We will also promote PlayBox Neo's support for IP control, which allows administrator-approved operators to work remotely via a secure Internet link," he continued. "It has long been a core feature of our systems, linking network television headquarters to regional studios in other cities, states or continents.
Solutions on display include:
The new PlayBox Neo Capture suite. Debuting at NAB, PlayBox Neo's capture suite is designed to handle the ingest workflow of television networks, post-production facilities and broadcast service providers. Operators have the ability to control multiple ingest channels across multiple servers. Functions such as input selection, ingest presets, file naming rules, assignments, and automatic transfer can be performed quickly and easily from a single web-based user interface. Features include a multiviewer with black frame and freeze frame alarms as well as loudness audio level monitoring as well as manual, scheduled and compliance ingest modes with automated input switching. Content can now be edited in Adobe Premiere and Grass Valley Edius Workgroup 9+ during integration. MXF and TS files being ingested are available for immediate playback through the AirBox Neo-20 automation without having to wait for the ingest process to complete.
The improved PlayBox Neo Multi Playout (MPM) manager. PlayBox Neo's Multi Playout Manager (MPM) broadcast monitoring and control system allows multiple AirBox Neo-20 channels to be operated via IP from any network-connected location. Next-gen enhancements include an updated user interface and integrated playback preview. Optimized performance combined with a fully integrated playback preview makes remote control and monitoring easier than ever. At the front-end of MPM is a revised user interface designed to match the user interfaces of the entire PlayBox Neo series. A built-in editor can be used to create future playlists. MPM also supports custom AirBox Neo-20 metadata and includes a library module for quick access to MAM. Media files can be dragged and dropped from library to playlist or processed into multiple folders with custom metadata settings such as folder category and color. A supervisor can also customize the MPM UI with an organization or channel logo.
The improved PlayBox Neo AirBox Neo-20. An automated streaming and broadcast system based on 22 years of refinement, AirBox Neo-20 is designed to make creating and managing TV content easy and stress-free. Available in 1U channel-in-a-box and 3U multi-channel versions, it is suitable for local or IP remote control. Scheduling of playlists can be done weeks before the actual transmission, media files tweaked, re-scheduled or incorporated into live production, and playlists configured for automated 24/7 operation. Delivery to multiple time zones in multiple languages ​​is supported. AirBox Neo-20 enhancements include GPU acceleration to achieve fast file decoding. I/O configuration can be done using a web-based resource monitor connected via a secure link. Automatic alerts notify operators of missing or frozen video streams via a multiviewer. Picture-in-picture digital video effects creation and real-time loudness compliance are also provided. Transport stream and clips of XDCAM MXF files can be played while still being ingested. Enhanced connectivity capabilities include NDI input in addition to existing compatibility with SDI, MPEG-2 TS and IP streams. NDI output is also now included, complementing existing SDI, SRT/UDP/RTP and RTMPS outputs.
The improved PlayBox Neo Cloud2TV. PlayBox Neo will also promote Cloud2TV. Available on a SaaS subscription, it is fully compatible with existing AirBox Neo-20 broadcast infrastructure and can be used to extend both scale and functionality. Specific Cloud2TV applications are assigned to content ingest, graphics editing, media browsing with metadata management and clip trimming, quality control and verification, transcoding, list management reading and audit logging. These can be closely coordinated to provide a complete set of broadcast resources supporting the workflow of an entire TV channel. Cloud2TV is configurable for terrestrial, satellite or CDN-based delivery under full IP control. It also provides a robust platform for the secure management and archiving of media assets, accessible by authorized operators anywhere in the world.