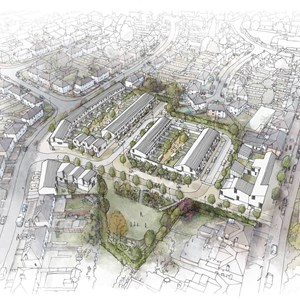 Leicester residents will have a say in regeneration plans for the Old Schools site
People who live and work in the Eyres Monsell area of ​​Leicester are being asked to give their views on plans to redevelop the site of two former schools for new accommodation.
Leicester City Council has received £360,000 in government funding under the One Public Estate (OPE) scheme. This will help fund the proposed demolition of disused Newry and Southfield school buildings and prepare the site for much-needed new homes.
Both school buildings have been vacant for over a decade and are now derelict. The city council is working to clean up the site ahead of redevelopment, with demolition work due to take place in the fall of 2022.
Alongside this, the City Council has appointed architectural firm Levitate to help draw up a master plan for the redevelopment of the three-acre site, located between Southfields Drive and The Newry.
Residents and businesses are invited to give their opinion on the first proposals for redevelopment of the site into new social housing.
Proposals include a mix of apartments and family homes with private gardens, in addition to improvements to the existing through route for pedestrians and cyclists linking The Newry and Southfields Drive.
The master plan currently proposes between 50 and 60 new homes for the site, with the final number to be confirmed at the planning stage. The buildings will be designed to high green standards as part of Leicester City Council's response to the climate emergency.
City Mayor Peter Soulsby said: "We are committed to investing in local neighborhoods and areas across the city. The redevelopment of the vacant and disused school sites of Newry and Southfield presents a valuable opportunity to bring lasting and ambitious improvements to this area and help meet the huge need for new social housing in the city.
"The work is still in its early stages and we want to involve the local community to help us develop an agreed vision and master plan for how we can reuse this derelict site in a way that will bring real benefits to the area. local.
More than 2,000 letters are to be sent to area homes and businesses inviting people to comment on the initial proposals.
People can also find out more and take an online survey at my.engaged.space/southfieldandnewry
The deadline for comments is Sunday, February 13.