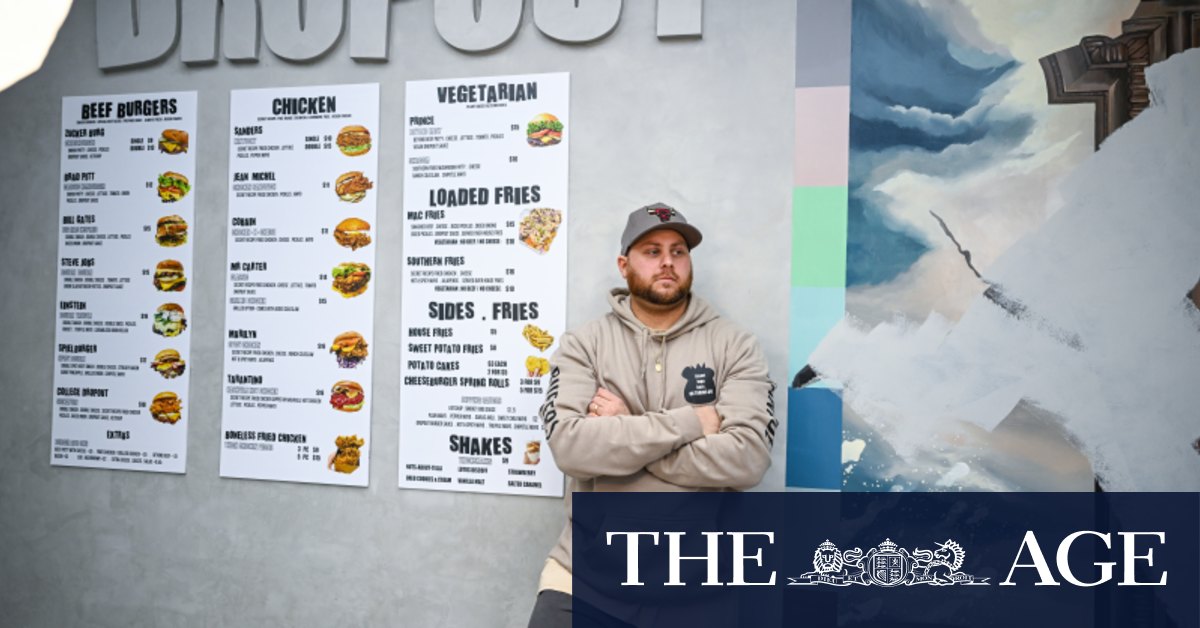 Kanye West orders College Dropout Burger owner to change store logo and burger names
Mark Elkhouri thought creative idol Kanye West following his College Dropout Burgers business on Instagram might be a sign of approval, but a letter from West's lawyers has arrived showing the entertainer is far from thrilled.
The cease and desist notice forced Elkhouri to paint over a mural of the American rapper, also known as Ye, at the Melbourne northeast store and deface a crowned teddy bear logo inspired by West's early artwork. Dropping out of college album.
The Ivanhoe store is also dropping menu names playing on West's song titles, including a fried chicken burger called Golddigger, a breakfast burger named Good Morning, and a Cheezus burger named after the album. Yeezus.
"It's quite difficult to be a Kanye West fan with this situation, we have to respect his wishes and move on," Elkhouri said.
"The fact that he looked at our [Instagram] stories and being there made me believe he was a fan of us.
The store will continue to be called College Dropout Burgers, but will instead serve meals named after famous people who dropped out of college, including Steven Spielberg, Steve Jobs and Mark Zuckerberg.
Elkhouri left college early to go into business, owning dessert bars at La Trobe and RMIT universities which he closed during the pandemic. These experiences and Elkhouri's love of music and West's creativity gave birth to the burger shop.
"Kanye West is the greatest artist of our time," Elkhouri said, adding that he found parallels in West's music with his own life after his mother's death in 2009.