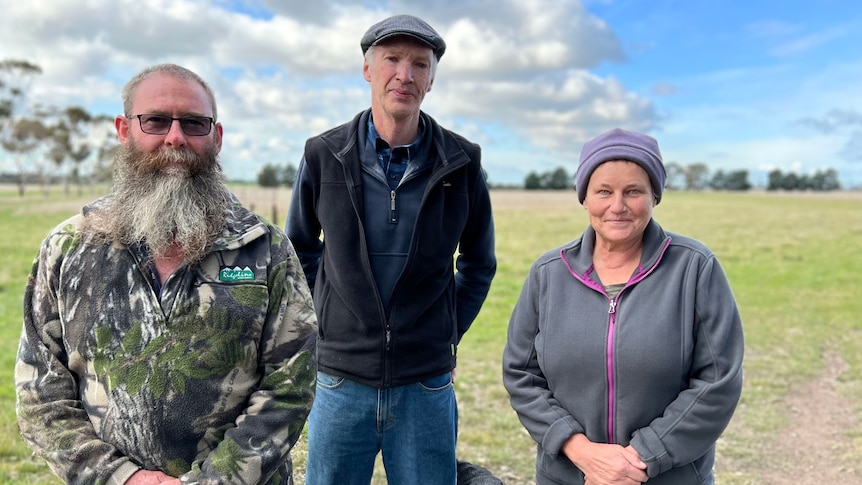 Gippsland farmers slam AusNet's proposal to link renewables to the grid via overhead transmission lines
Farmers have banded together to oppose a proposed new 80m high power line in eastern Victoria.
Key points:
AusNet has announced a proposal to build an overhead transmission line connecting a renewable energy development to the main grid
The 80m high towers would cross 48 properties along the proposed route
Giffard farmers have pledged to fight the proposal and push for it to be built underground
The line is needed to carry electricity from Victoria's first "renewable energy zone" to the Latrobe Valley grid.
AusNet identified 48 landowners along the road from Giffard to Hazelwood via Longford and requested access to conduct site surveys.
However, the proposed route has not yet been made public.
Neighbors David Matthews and Helen Milne farm in Giffard and have seen maps indicating where the line could cross their properties.
With others, they reconstructed part of the proposed route.
AusNet has pursued plans for an overhead transmission line with landowners, but in a statement to the ABC, a spokesperson said the company had not ruled out building the line underground.
'Never in a million years'
Mr Matthews and Ms Milne oppose the overhead line but say they would be open to an underground option.
Mr Matthews said 'never in a million years' would he accept any amount of compensation for an airline.
"We would much rather never have heard of AusNet, but given that renewable energy is a thing and climate change continues, we are happy to see it continue, but underground where it does not affect our values," he said.
Mr Matthews said two other proposed transmission lines in Gippsland – for the Star of the South wind farm and another to carry power to Tasmania – have both committed to build underground.
An opposing community
Ms Milne operates a farm with her partner Mick Ryan and said she knows 25 landowners opposed to aerial towers.
"The towers are 80 meters high, so you can imagine what it would look like," Ms Milne said.
"In our case, we would have three pylons [on our farm] and the transmission line will be about 400 meters from our house, so it will be very visible."
Mr Ryan said he was concerned about the biosecurity implications of having contractors working on his property.
"They told us they could wash their vehicles, but it will be at your front door and who is going to police?
"I have neighbors who have the existing Basslink line running through their properties and they've had trouble trying to move cattle through the gates where the power lines are, so that's going to be a huge problem."
Ms Milne said the couple moved to Gippsland six years ago and endured three years of "the worst drought on record in this district".
"We've only just started to get back on our feet now and now they've thrown this at us, it's really hard to maintain that feeling of resilience.
"It's distressing even to consider the proposal of overhead lines crossing our property."
Possible underground: AusNet
AusNet said it would contact all landowners along the route before releasing the information.
"The final design, whether above ground, below ground or a combination of the two, will depend on a number of factors, including whether we can make the business model work, community feedback and other environmental and technical studies. "said a spokesperson. .
"The exact amount of the total lump sum and the amount [of compensation] each landowner will receive will only be known once we have determined if we have a viable project and upon completion of negotiations with the landowners."
Job , updated