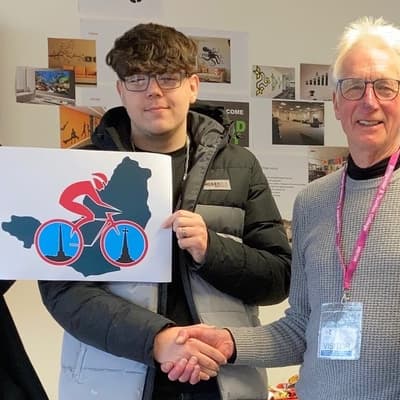 David's design wins logo competition
A TALENTED student from Bridgwater & Taunton College (BTC) Design Academy has won a competition to design a logo for the Wellington Cycle Route campaign in Taunton.
The Wellington to Taunton Cycle Route Campaign hopes to provide a separate cycle route along the A38 between Wellington and Taunton to allow easier and safer cycling on the route.
Organizers gave Design Academy students a brief requesting distinctive graphics suitable for a range of formats, including websites, social media, letterhead, t-shirts and signs.
The winning design was created by David Zuromski, 18, from Taunton, who is completing an extended degree in art and design at BTC's Taunton campus.
David said: "I used Adobe, Photoshop and Illustrator software to come up with the idea.
"I wanted to use the map to give it a location and then found a way to use the landmarks from Wellington to Taunton to feature in the wheels, so there was a strong visual connection.
"I love working digitally to create illustrations on my course, and I hope these skills will help me get a job as a graphic designer.
"I am very happy that my design was chosen.
"It's great to have something in my portfolio that has been seen by a lot of people as part of a campaign."