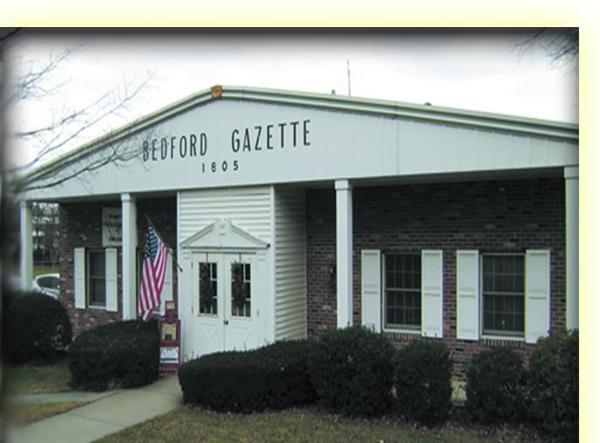 The Donahoe Manor alumni reunion will be held April 26 at 6 p.m. at Denny's Restaurant, Bedford. For more information, call 814-585-0055.
A pro-life meeting will be hosted by Bedford County Citizens Concerned With Human Life at 6:30 p.m. March 14 at Bye Gone Days, 13696 Lincoln Highway, Everett, in the office at the west end of the building. For more information, call 814-623-6887.
The Standard Register Employee Spring Breakfast will be held April 30 at 9 a.m. at Denny's Restaurant, Route 220 north of Bedford. Employees, relatives and friends are invited.
Friday Fish Chips will be served drive-thru only at the Imler Area Volunteer Fire Company room from 4 p.m. until full on March 11, 18, 25, April 1 and 8. The cost is $14. Meals include baked or fried fish, fries or baked potatoes, macaroni and cheese, cooked tomatoes, coleslaw and rolls.
Cancer Crusaders meet at 6 p.m. on the first Thursday at Denny's Restaurant. For more information, call 814-839-2760. The group raises funds to help local residents diagnosed with cancer.
U.S. military mothers and friends will gather at 5:30 p.m. March 21 in the basement of Trinity Lutheran Church, Bedford, to pack Easter boxes.
The Everett High School Class of 1962 will gather at noon on March 16 at Kelly's Scenic Restaurant for a reunion lunch. All class members are encouraged to attend. Plans for the 60-year-old class reunion will be discussed.
The Akersville Fall Festival will be open from 9 a.m. to 5 p.m. October 13-15 at 3421 South Valley Road, Crystal Spring. Applications for vendors, artisans, setting up a garage sale and more are available at akersvillefallfestival.wordpress.com. For more information, call 717-977-2953 or 814-310-1711. The setup fee is $20 for a 12 foot space.
The pizza night will be hosted by the Cove Lions Club from 5-7 p.m. on March 11 at the Lions building in Loysburg. On-site, take-out and pre-order by calling 814-766-9912 are available. The cost will be $12 for a pepperoni or sausage pizza and $10 for a cheese pizza, cooked or not. Onions, peppers and mushrooms will cost an extra $1 each.
The Breezewood Volunteer Fire Department will serve a drive-thru turkey dinner from 11 a.m. until sold out on March 13.
The Frontier Patriots Chapter of the Sons of the American Revolution will meet at noon March 12 at Hoss's Steak and Seafood Restaurant, 4308 Business Route 220, Bedford. The Frontier Patriots chapter includes Bedford, Blair, Clearfield and Huntingdon counties. All current members are encouraged to attend, as well as any male 18 or older who wishes to become a member. To become a member, proof is required of parentage from a Patriot who served in the Revolutionary War or who aided and supported American settlers during the Revolution.
The Bloody Run Historical Society's exhibit at the Everett Free Library in March will be a display of photos and articles about the 1936 St. Patrick's Day Flood, Lutz Wool Mill, also known as woolen mill name Juniata, the Indian statues of Lutzville and the Indian seats on Warrior Ridge.
Everett Senior Center activities in March include 10 a.m. drills and 12:30 p.m. bingo on March 14, 21, and 28; bingo at 10 a.m. on March 11 and 18; music and birthday party at 10:30 a.m. on March 16; Celebration of Saint Patty's Day on March 17; Presenting Habitat for Humanity at 11 a.m. March 22; Alzheimer's Awareness Day and Trivia at 11 a.m. March 23; presentation by author Eric Shields at 11 a.m. March 25; nutrition program at 10 a.m. on March 30.
Royal Rangers Outpost 341 will host a free roller skating party at Moon Glow II from 6-8:30pm on March 15. Free concessions will be provided by the Royal Rangers and local churches. There will be fellowship, a Bible lesson and Christian music. For more information or if you are interested in donating, visit the group's event on Facebook or call 814-977-4523.
Knights of Columbus Fish Dinners are back at St. Thomas Hall. On-site or take-out catering services will be available every Friday from 4 p.m. to 7 p.m. until April 8. applesauce, bun and butter, drink and dessert. The cost is $14 for anyone 13 and over and $7 for children 12 and under. Take-out meals will be available at an additional cost.
PTC retirees and spouses will meet for lunch at 11:30 a.m. on the second Thursday at Hoss's Steak and Sea House, Bedford. For more information, call 814-652-6946 or 814-623-6992.
Freedom From Smoking classes will be held on Tuesdays, March 15 through April 26, at the Bedford County Chamber of Commerce Building, 203 S. Juliana St., Bedford. Participants can choose from an afternoon class series from 1:30-3 p.m. or an evening class series from 4:30-6 p.m. The free classes are sponsored by the Lung Disease Foundation of Central PA and include free nicotine replacement therapy in the form of nicotine patches or gum and mints. Registration is mandatory. Call 814-977-4455 to register or for more information.
The Bedford County Library is hosting a logo design contest, open to all Bedford County residents. Participants are invited to design a new logo for the library. Submission forms can be found at the reception of the Bedford County Library and must be accompanied by a color drawing or photograph by March 26 at 2 p.m. at the library. The library board and staff will determine the winner and hold a ceremony to announce the winner during National Library Week. For more information, call 814-623-5010.
Bedford Business and Professional Women sponsors scholarships for Bedford County graduating girls and non-traditional students who have been in the workforce and are returning to college, as well as for BPW members who are pursuing University studies. Applications are available from school guidance offices. The deadline to apply to Jeannie Plummer, 501 N Juliana St., Bedford PA 15522 is March 31. For more information, call 814-623-5510 or 814-327-1261.
The Bedford High School Class of 1973 will gather for a noon lunch on April 28 at the Jean Bonnet restaurant.
The Everett Lions Club will host its second race night at 7 p.m. on April 2 in Down River. All proceeds will go to the Hartsock/Weicht Medal of Honor Memorial. Doors will open at 5:30 p.m. There will be 10 horse races (previously recorded across the country and broadcast on video equipment). Participants can "buy" a horse and name it for $25. Race Night attendees can also wager on horses at a minimum bet of $2 per race to win cash prizes based on the odds. Anyone interested can also "hire" a jockey to ride the horses. The cost to name the jockey is $25. As space is limited for the event, jockey owners can only attend if there is space. If interested in attending, buyers should check the box on the ticket stub to be notified in advance. Hiring a jockey is another way to support the Medal of Honor project without attending. Program patterns are required. The cost is $10 each. $50 horse and jockey sponsorships are available for each race. Sponsors will be promoted during the race and in the program. There will be games of chance and other events. To purchase tickets, or to become a patron or sponsor, call 814-652-5439 and leave a message, or see a member of the Everett Lions Club. There are only 100 horse tickets available for admission and 100 jockeys.
Upcoming Bedford Senior Center activities include: Koffee Klatch, 8:30 a.m. to close, weekdays; take-out dinners, 11 a.m. to 11:30 a.m. weekdays; lunches on site, 11.45 a.m. (registration required before 12.30 p.m. the day before), weekdays; exercise, 9 a.m., weekdays; bingo and 50/50 draw, 10 a.m. weekdays; mah-jongg club, 12:30 p.m., Mondays and Thursdays; Bible study, 12:45 p.m., Tuesdays; chair dance, 9:30 a.m., March 16; indoor cornhole, 10 a.m., March 16; paint and educate, 1 p.m., March 11; blood pressure screening, 9:30 a.m., March 14, March 28; Fulton Nutrition presentation, 10 a.m., March 17; COBRA Book Club, 10:30 a.m. March 22; Opération Enfant de Noël program, 9:30 a.m., March 23; Altoona shopping trip, March 24, must register by March 18; Show and Tell, 9:30 a.m., March 29; and Happy Anniversary Recognition, March 30.
The Ravers Gap Sportsmen Club will be hosting weekly shotgun shooting sessions on Thursday nights through March 24, weather permitting. Doors will open at 6 p.m.; Filming will begin at 7 p.m. Meat prizes will be awarded. Weapons will be checked; the minimum choke will be 0.680, no glasses will be allowed. For more information, call 814-224-5515 and leave a message. The cost will be $15 for seven shoots.
The Fort Bedford Auto Club meets on the second Thursday, September through May, at the lower level of the American Legion in Bedford with a meal at 6:30 p.m. and a meeting at 7:30 p.m. Participants do not need to own vintage cars. For more information, email [email protected]
Chestnut Ridge Walkers meet for walking sessions from 3:45 p.m. to 5 p.m. Monday through Thursday, when school is in session, at Chestnut Ridge Middle School. For more information, call 814-839-2958.
The Everett High School Class of 1960 will meet for lunch at 11:30 a.m. on the second Thursday at Kelly's Restaurant, Everett.
Chestnut Ridge Wellness & Fitness offers Strong Seniors classes from noon to 1 p.m. Mondays and 9 a.m. to 10 a.m. Wednesdays and Fridays. Participants do not need to attend all classes. Classes are held near the Pleasantville gymnasium and are free for most seniors and $3 per session for others. Call 814-360-2659 for more information.
Employees of the former Howard Johnson restaurant in Breezewood will meet at 11 a.m. on the second Monday at Mandy Jo's Country Corral restaurant in Everett.
Summit Quest offers fitness classes at 8:45 a.m. on Mondays, Wednesdays, and Fridays; SilverSneaker class at 10:15 a.m. Mondays and Fridays and 9 a.m. Tuesdays and Thursdays; beginner line dancing from 1 p.m. to 2 p.m. on Tuesdays; advanced line dancing classes from 2 to 4 p.m. on Tuesdays and from 6 to 8 p.m. on Thursdays. A fitness instructor is required; call 814-585-2249.
The deadline to submit information for the Club News page is Monday at 5 p.m.