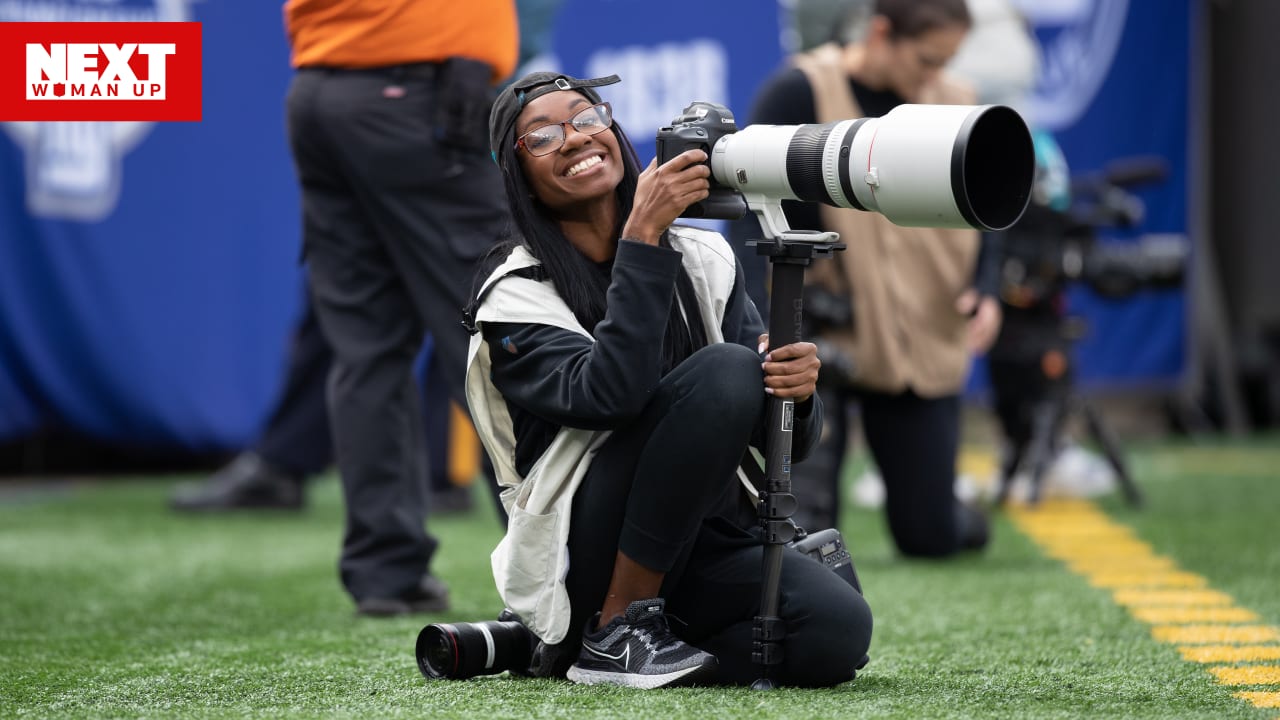 Chanelle Smith-Walker, Carolina Panthers team photographer
What advice do you have for women looking to get into a sporting career?
Do not be afraid to defend your interests. It's good to fight for yourself and be confident in your abilities. People might take advantage of people not wanting to defend themselves, so you have to be prepared to do that.
This is great advice. What's next in terms of what you want to accomplish, whether it's short or long term?
The most important thing I've always wanted to do is give back and help minority creatives and people who just don't have opportunities. When you look at the creative industry as a whole, there's a big gap between people who have privilege and access to big schools like Alabama and Texas — schools with really big creative content programs — and people who don't because they can't afford it. I wouldn't be doing what I'm doing now if I hadn't gotten a volleyball scholarship to Elon University, so I want others to have the same opportunities no matter where they're from or in what situation they find themselves.
I'm in the early stages of a program with the Panthers. It's a job shadowing, an eight-week program where minority youth can come in and shadow all parts of the department, and it will happen right after the season and through free agency. . They won't necessarily be doing work, but they'll be a fly on the wall to see everything that's going on in content creation so they can see if it's a career they really want to pursue.
The other thing I've worked on is a minority creations workshop. We will take 24 people who will be divided into four areas: social, video, graphics and photo. We provide all necessary gear and equipment. This is a one-day, eight-hour course. During the first three hours they will learn how to use the equipment and the second half is dedicated to mentoring and networking.
I was blessed with the Panthers because they really supported those programs and got them started. We have a very diverse creative team here and I think it shows in the work and the projects we do.
I look forward to hearing how these programs turn out. Finally, what are you most proud of?
(Heartbreaking) I wouldn't necessarily say everything I've done, but representation is so important I would say showing people that you can be like me and be successful in this. I'm sorry, I'm so emotional. I want to inspire and I've gotten so many messages from people saying things like "I lost hope then I saw your TikTok". I use TikTok to educate and guide people on where to look for jobs or how to do certain creative things.
I think my biggest achievement is inspiring people and showing them that they don't even have to like sports or go to big universities. They can do it. If you put your mind to it, you can find a way to do it. I want to see more black women doing this because there aren't many of us. I'm not doing this for the rewards. I do it because I love my job and I love being creative, and I just want to help people. I want to help bring more women, especially minority women, into these roles.