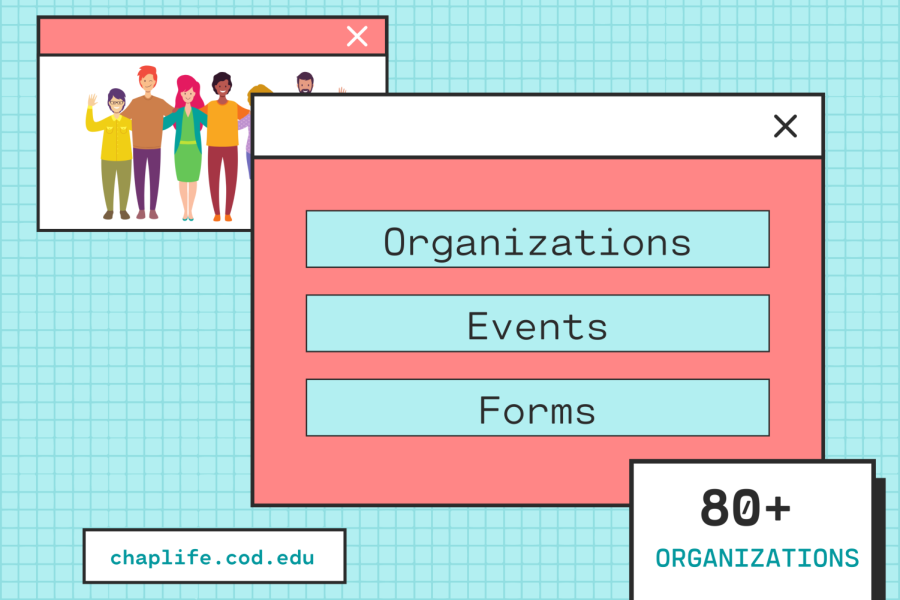 A review of ChapLife – The Courier
ChapLife is an elegant and useful COD platform for extracurricular engagement, but many students ignore it. Can this be explained?
Getting involved in campus extracurricular activities is a practical way to make the most of differences by meeting like-minded people while simultaneously doing activities that students enjoy. Here at the College of DuPage, there's a little-known tool to simplify campus engagement.
ChapLife is a website that contains all relevant information for each of the 84 official COD organizations. Using a widely used on-campus engagement platform called Presence, ChapLife can be accessed through the "Student Life and Resources" tab on the main college page. The site offers pages dedicated to campus organizations, the calendar of upcoming events, and extracurricular forms.
At first glance, ChapLife appears to be a valuable and convenient platform that makes navigating all of the COD involvement opportunities quite feasible. Yet, despite all these useful features, it doesn't seem to be widely used or even recognized by the student body. I myself only recently heard about it and discovered in passing that it had already been around for several years. Is there an explanation for this disconnect?
The "Organizations" page lists each of COD's organizations in alphabetical order, and each specific activity has a section for background information, upcoming events, and a clickable icon to join or contact the club. The "Events" page chronologically displays all upcoming extracurricular events on campus while noting affiliated organizations; this page also offers users the option to choose a grid, list or calendar view of the schedule. The "Forms" page contains links to a few specific applications and forms that generally apply to all activities such as a Club Advisor Form, Club Deposit Application and New Club Application Form. The site also presents a search bar and several filtering options: category of organization, name of a specific organization, tags, dates, and many others.
Additionally, students also have the option of logging in through their insideCOD information; Under their specific account, students can see current memberships, officially accrued hours of service, and a detailed timeline of all previous memberships in the organization.
Accounting student Andrea Jovanovic describes her personal experience with ChapLife at the end of her first semester at COD and only because another student briefly mentioned it in passing. She remembers using it to fill out gift forms and see all the clubs offered by the school. However, due to the fact that many organizational pages remained inactive, Jovanovic admitted: "I was not able to get involved as much as I wanted to."
His experience describes two central issues: ChapLife is quite difficult to discover without already knowing it exists, and it is not updated regularly in many organizations. Although it is accessible from the school's main website, a student should already be familiar with its features to even know how to click on it.
The tool is not even advertised on the homepage. It is hidden in a subsection. The website can be found directly through a search engine, as is possible with other college-affiliated platforms. However, without knowing ChapLife already compared to the students' familiarity with BlackBoard, this would be difficult.
As a newly appointed admin of a COD club, I've walked through ChapLife from both a display and reception perspective a few times. The site is significantly more difficult to navigate than the first than the second. Not only are there a considerable number of vague icons to browse through, but the site itself doesn't provide much direction. If my fellow officers hadn't been so experienced with ChapLife, I would be at a loss knowing what information to include in a massive, blank text box. Many organizations do not update their pages regularly or even at all, and arguably the site's ambiguity on the administrative side contributes to this. Nevertheless, ChapLife loses its practicality without this information.
This then leads to another major problem with the site: its marketing. It is not discussed or marketed on campus, either by staff members, incoming students during new student orientations, or through physical posters. Notably, the current version of ChapLife is actually not the original. The previous version, also called ChapLife, had a reputation for being very outdated and difficult to use. Additionally, this version of ChapLife persisted for several years before COD began using Presence to build the website.
Nevertheless, by keeping the same name and not even announcing a change, many administrators and staff who knew him before retained their negative prejudices towards ChapLife. With so many tired people there is less urgency to take advantage of the features the new site has to offer.
Despite these aspects, there are still several concise, active and cohesive organizations on their ChapLife page. To illustrate, the Phi Theta Kappa page lists sections dedicated to a general summary of the club, terms of membership, membership process, location of the PTK office, a description of meetings, Zoom link recordings of all previous meetings, leadership opportunities and advisor information. As an officer, myself and the other leaders of Phi Theta Kappa have dedicated a section of the page to introducing ourselves in order to create a sense of welcome. Students also have access to the monthly meeting Zoom link and a contact form. The Phi Theta Kappa page uses the features of the website not only to be as comprehensive and useful as possible for potential and current members, but also to maximize member engagement.
Northern Illinois University's version of ChapLife using Presence has sections dedicated to experiences and resources in addition to the three COD listings. HuskieLink links directly to its own social media pages, and all organization pages follow the same format of listing basic information, naming managers, linking documents, linking a contact form and a clickable option to join the organization. This demonstrates that the problem is not with the platform at all, but rather with the way it is used.
Luckily for COD students, Phi Theta Kappa is running a workshop for after-school agents to not only raise awareness of ChapLife and its many strengths, but also teach admins how to use it effectively for better engagement. We are also creating a physical display outside the Office of Student Life that will provide visual instructions on how to effectively navigate the site on the student side.
Speaking with Jovanovic, she also candidly noted that "there are still a lot of things that could be improved, mainly the knowledge on how to use it and the marketing of the site itself. Overall, it's a useful tool. She said it herself best: Overall, ChapLife is a useful and functional app that could and can benefit many College of Dupage students, but it's just not being used to its best advantage. capacities.